Apple's 'home-made' graphics chips for the iPhone-soon!
Apple will be developing its own graphics chips for the iPhone according to the sources. The British Chip designer Imagination Technologies, that provides PowerVR graphics processors for the iPhone and iPad, mentioned in a statement that the California tech giant won't be licensing its technology in less two years' time. As per Imagination Technologies, Apple has decided to self-develop the designs for the graphics to maintain its control on its products and won't be availing Imagination's services in the future.
This means a big shock for the Imagination company, as half of it's revenue comes from Apple's iPhone and iPad devices. Apple currently holds more than 8 percent of Imagination Technologies. And if Apple executes its decision in the next 15 or 24 months then it will mean that Imagination won't be getting any royalties on Apple's devices.
For a detailed view, have a look at the statement of what Imagination told:
"Apple has not presented any evidence to substantiate its assertion that it will no longer require Imagination's technology, without violating Imagination's patents, intellectual property and confidential information. This evidence has been requested by Imagination but Apple has declined to provide it.

Further, Imagination believes that it would be extremely challenging to design a brand new GPU architecture from basics without infringing its intellectual property rights, accordingly Imagination does not accept Apple's assertions."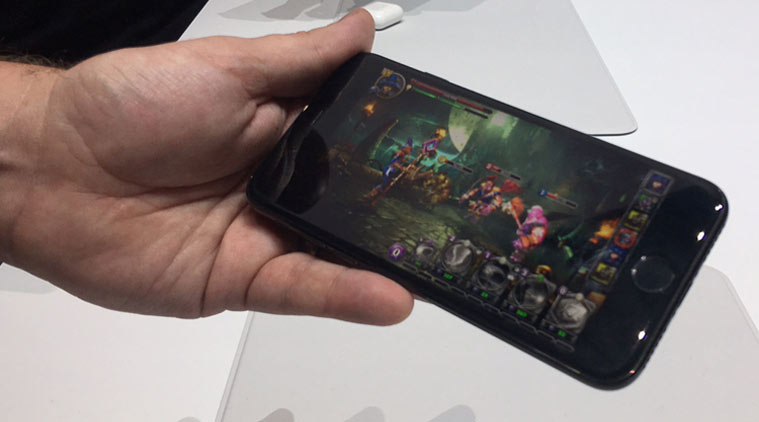 Source : images.indianexpress.com
So, all this sums up to the conclusion that, may be, before the end of the next year or so, we will see the iPhones, having an A-series chip with both the CPU (control processing unit) and GPU (graphics processing unit) being designed by the company itself. Till now as far as the processing is concerned, Apple has always outperformed every other competitor with its ARM-based processor. How this new decision of Apple turns out, will be interesting and yes, 'enchanting', to see in the future.
First Image Source : https://cnet1.cbsistatic.com/img/qFliBwFLmg-F8tnCLJJXllwyZxU=/770x433/2016/09/07/86535c99-69b9-465f-b80b-926083ece608/applesept16fliphone7plus.jpg
Subscribe to stay updated


✓ Subscribed

Glance of our facebook page